I don't know about you (well actually I do which is why I'm sharing this with you), but it feels so overwhelmingly busy as we get closer to the end of the school year. Our teen graduates High School this week which we are celebrating with a small family gathering, my 7-year-old has had school events I have been a part of, we have end of the year PTA meetings, we are packing up for our annual family trip and on top of all that I still work a full-time job. There is no way I want to add a long grocery shopping trip to my list of to-dos. So I didn't. Instead, I took 5 minutes to add my grocery list to my Walmart Grocery Pick-up cart. The pick up was a quick trip and we were home with plenty of time to have an ice-cream dessert and watch a sitcom as a family before our bedtime routine (Family Matters is on HULU people).
Walmart Grocery Pick-up is easy, affordable, and whatever your dietary needs are, you really can find it all at Wal-mart (they even carry my Kombucha and plenty of vegan options too). Here are a few things to know if you decide to give this whole "Tantrum free shopping" method a try:
Download the Walmart Grocery app or visit the Walmart Grocery website here. I recommend downloading the app because it will come in handy when checking-in for pick-up.
Load up your grocery cart- there is a minimum purchase requirement of $30. Type your items in the search bar or shop by category (similar to the aisles in store).
Schedule your pick-up time-after you make your purchase choose your preferred time slot for when you want to pick up your groceries.
Check-in- before you head out to pick up your groceries "check-in" through the app so that your groceries are ready for you when you arrive.
Park your car- follow the orange "Grocery Pick Up" signs in the Walmart parking lot that will lead you straight to the Grocery pick-up area. Park your car and a Walmart Associate will take care of you. You don't even need to get out of the car if you don't want to.
That's it. Nothing else. Drive home and enjoy all that free time. Read a book, watch something you love, play a board game with the kids, exercise, nap, whatever your heart desires!
If you want to see Walmart's Grocery Pick-up service in action click on the preview image below for my FB live video of our pick-up experience. If you want you can even keep an eye on the time from arrival to finish- super quick is the name of the game here.
Our shopping trip this week was not only about getting our graduation party basics but also about sampling some fun ice cream flavors for both the family celebration and for these warm evenings. Here are my family's recommendations for some yummy summer treats to add to your grocery list next time you are shopping.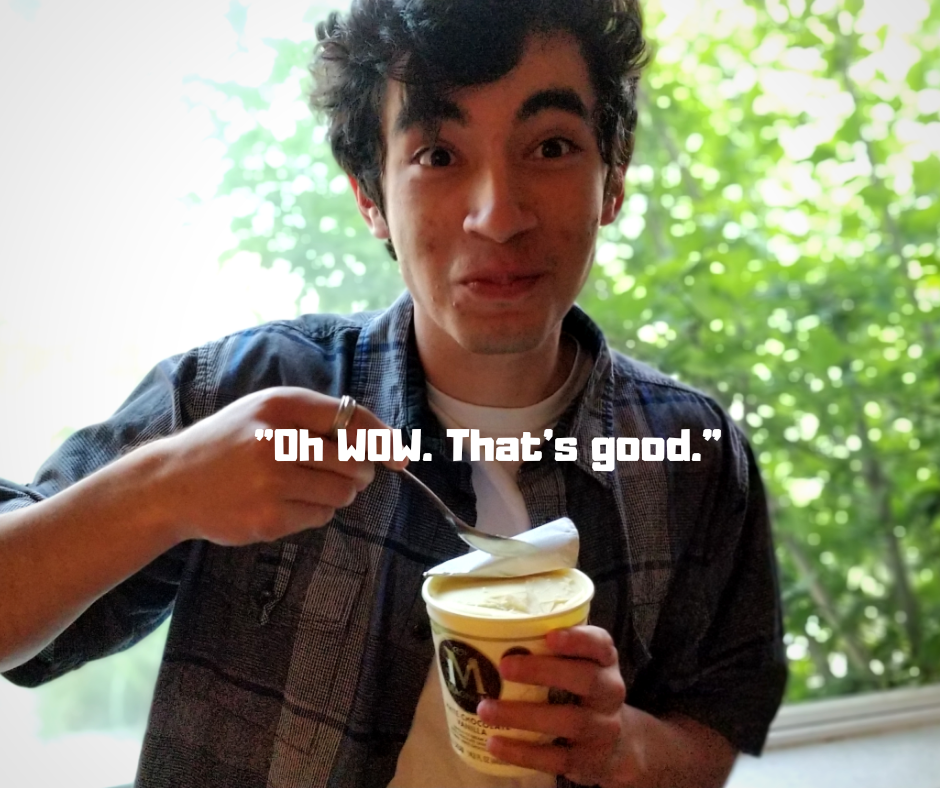 Magnum's White Chocolate Vanilla Ice Cream for the win. No joke, this was delish.
This facial expression was all about the white chocolate hard shell surprise on the inside.
As much as I love a decadent tub of ice cream there is only so much sugar I allow myself and the boys to have. Popsicle brand popsicles have some deliciously healthy options. Check out the ingredients and calorie counts in these.



I dare you to NOT sing the Klondike tune right now.

This classic dessert has some

updated flavors that are irresistible.

See Exhibit B for proof.




Exhibit B: Caught my hubs sneaking a Klondike

before the party.

Don't blame him, they were too good to resist!



In the time it took you to read through this article you could have already ordered these yummy treats through Walmart's Grocery Pick-up, so don't give it a second thought and try this service that so many savvy moms and dads are already raving about! Just click here to start.
Disclosure: Content sponsored by Unilever and Walmart Online Grocery Pick Up, but all opinions are my own.