A couple of weeks ago my family and I joined other Macaroni publishers and their families for a Snow Day Event hosted by Granlibakken Tahoe. This was our first experience at the resort and I will tell you, it won't be our last. Life for my family is often busy and hectic and our stay at Granlibakken put us on a different pace and we can't wait to take the drive out there again! Here are the top 3 reasons my familia recommends you take the drive to visit too:
1.Fueling up
I only like staying in hotels that offer breakfast, but not just cereal and pastries, a full breakfast. I know, I'm picky like that. Granlibakken offers a full hot buffet breakfast for all resort guests. Our youngest still had his cereal every morning, but the rest of us took full advantage of the many other options available, vegetarian and vegan options too. The hot chocolate bar was a treat as well. The banquet room was very spacious so you don't have to worry about sleeping in a little and then not finding seating when you are ready to have breakfast, although if you have young kids sleeping in isn't much of an option right? The resort also has other ways to fuel up during the day's activities. The Ski Hut Snack Bar was our on-site lunchtime spot every day with a great Mexican food menu (hot dogs too for the pickier kids in the mix). The Ski Hut has a central wood fire oven that was so cozy during the times we had to come in from the very cold, very fresh snow. And for dinner, the Cedar House Pub is on site with affordable and kid-friendly food as well.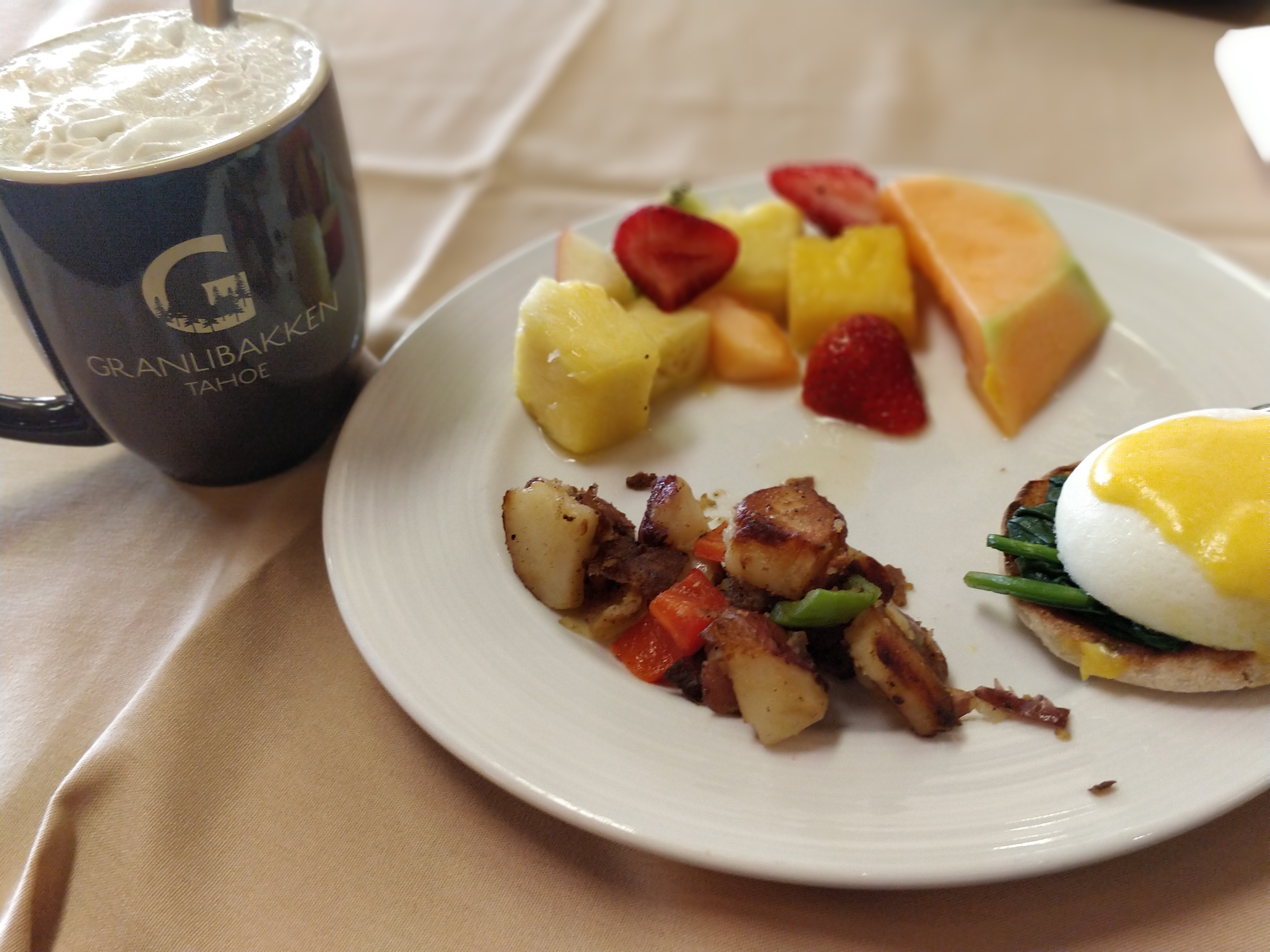 Most important meal of the day, & the yummiest.

2. Staying Busy and Slowing Down
It was nice to stay in one location where we could do so much but walk back to our rooms for a bit to relax, read, watch the snow fall, even nap before going back out to play again. And you will need that nap after the many activities offered at Granlibakken! We spent most of our time sledding. Sledding tickets are $8/person with a saucer rental included for those that stay in the resort and $16 if you are visiting for the day. We had so much fun sledding- for me, it was like being a little girl again. You will find some videos of my family sledding on the Stockton Macmom Instagram page. This activity alone helped me meet my daily step goal by just 10 AM every day as we walked up the hill time and time again-no joke! If Skiing and Snowboarding are more your family's thing, you can do that too. If you or your children are trying out these sports for the first time or are beginners, Granlibakken is the perfect location to learn and strengthen your skills. We saw many families take advantage of the lessons and equipment rentals available. Lodging guests also receive a 50% discount on lift tickets- which is a nice perk! A Cross-Country Skiing and Snowshoe trail- a 1.5-mile track- is on site as well.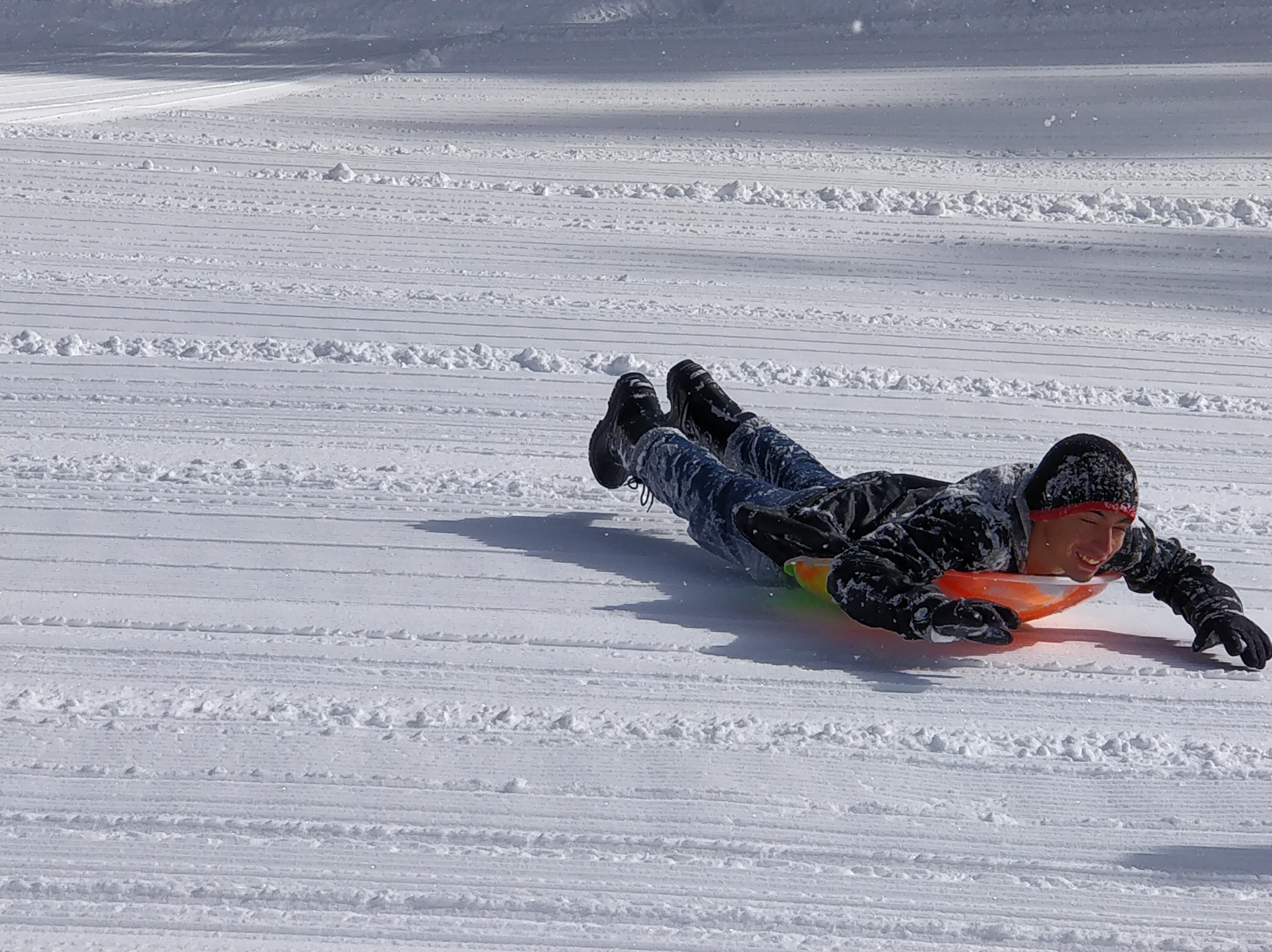 Levi giggling like a child as he sleds downhill

As much fun as these activities are, relaxation is still the reason many like to get away in the first place. We ended our last night in the outdoor hot tub and heated pool. It was snowing that night and we thought it would be such a treat to sit outside in a hot tub while it snowed. And what an experience it was. The pool and hot tub are connected to a building with dressing rooms and a sauna, so we didn't have to make the walk to the pool in our swim clothes! Thank goodness for that. Granlibakken also has the Lighthouse Day Spa on site with plenty of services available by appointment.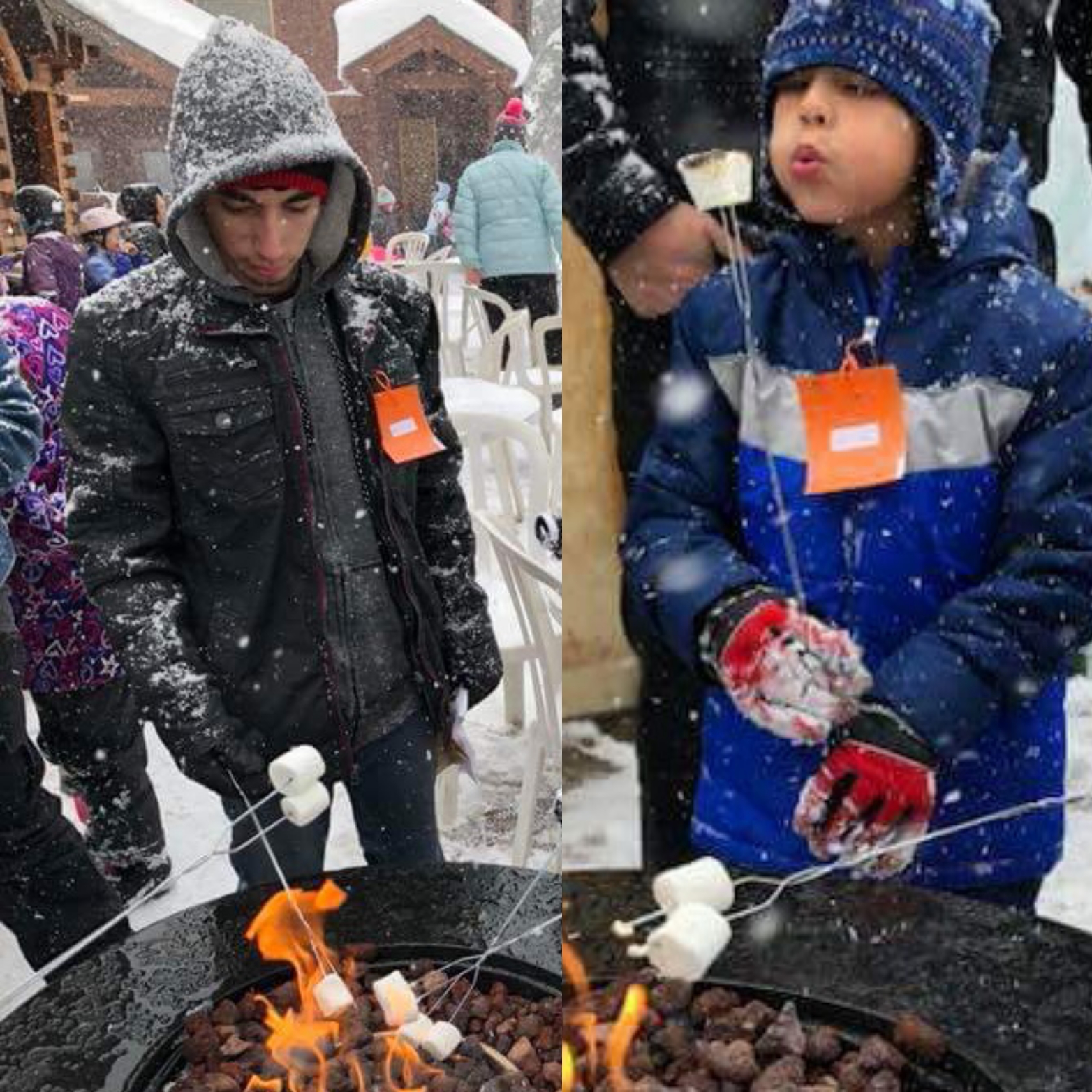 S'more family fun
3.Location, Location, Location
The 2 1/2 hour drive to Granlibakken was a breeze on the main Hwys- 5 and 80. Though our drive up was literally through a snowstorm, there were plenty of rest stops and vista points on the drive up and back for the boys to stretch. But most importantly is that Granlibakken is located near the beautiful Lake Tahoe and other amenities should you wish to leave the resort. We stocked up on snacks and drinks at the nearby Save Mart and ordered pizza at a local pizza place. But there were many other trails, ski parks, shops and restaurants within a couple miles of the resort. 
Granlibakken Tahoe is definitely a great option for your family's snow day but I'm really looking forward to returning this spring or summer. Once the snow melts away families can enjoy the many cycling and walking trails around the resort and the Adventure Park, as well as Lake Tahoe so close by. If you are considering a visit to this wonderful resort then make sure to follow them on Facebook here and sign up for their email notifications through the main website so you can be on the alert for great deals and packages.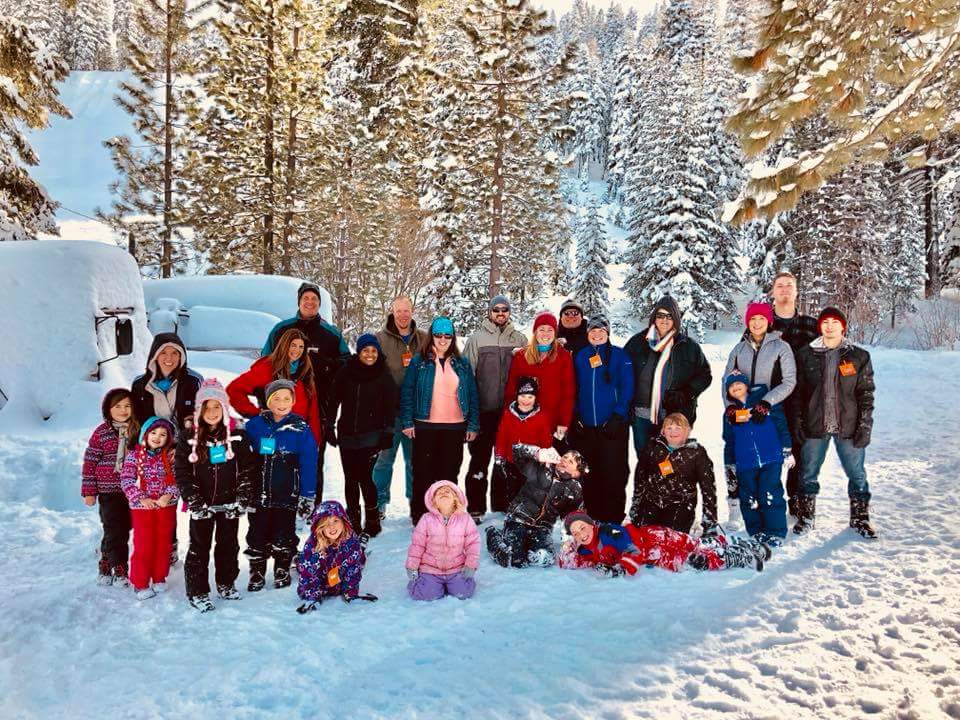 Family fun for ALL ages