My boys and I attended the opening night of the Monster Jam: Triple Threat Series at Sacramento's Golden 1 Center last night. We had an amazing time. My 7-year-old has been a Grave Digger fan ever since he received his first monster truck toy from his auntie several years ago, but last night he found a new favorite- Earth Shaker! This is our second show and I thought I knew what to expect but there were so many new trucks, drivers, and races we hadn't seen. There is even a new voting system where fans vote on their smartphones and determine the outcome of the race. That was actually really fun. But the highlight of the night is, of course, the different competitions and getting to know the drivers through their racing style. It was great seeing two female racers!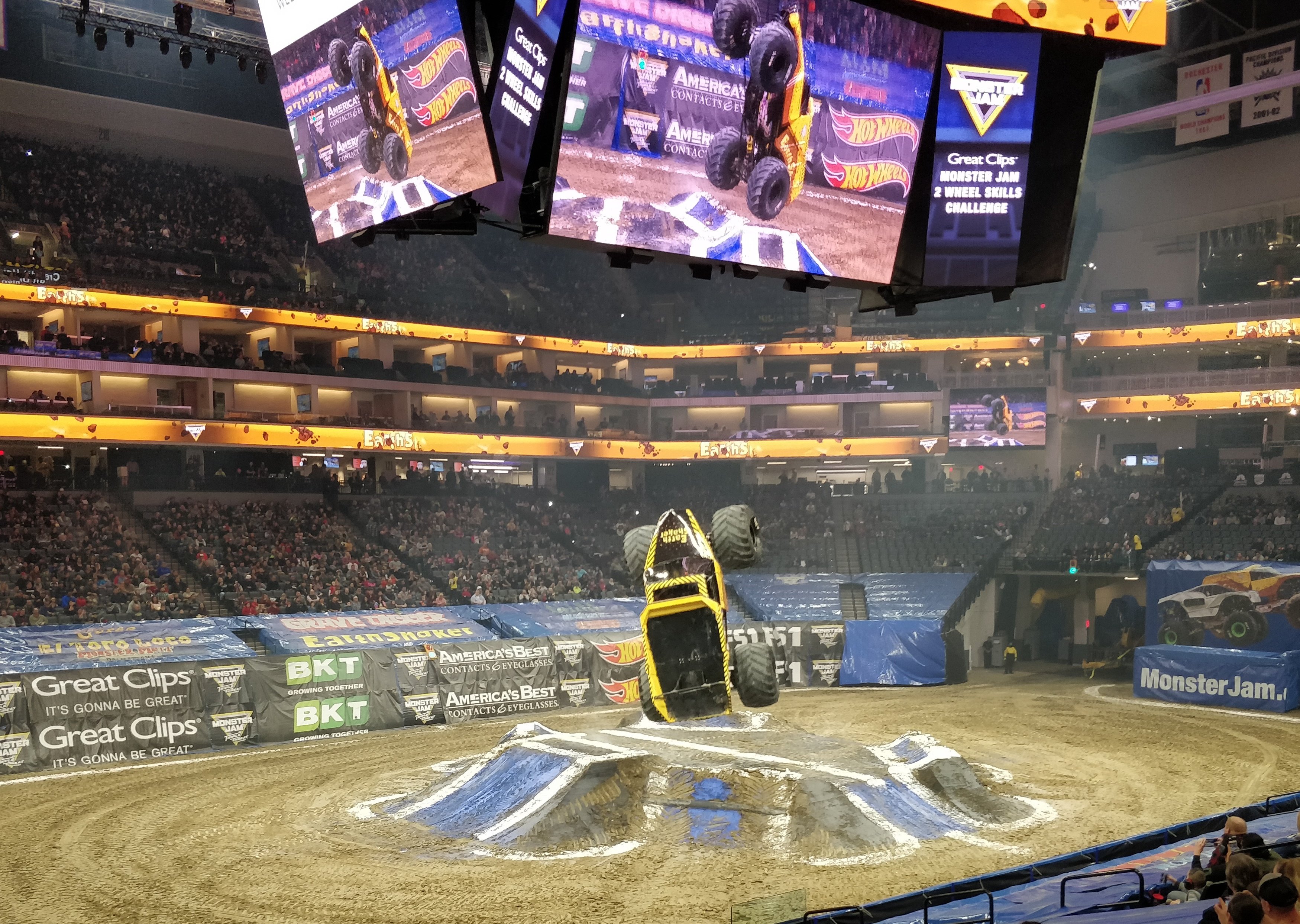 Golden 1 Center is also a treat in itself. It is absolutely state of the art and there are so many food choices, even some healthy food choices which is nice. Not inexpensive though, which is pretty normal for eating out at venues like this. Lot's of merchandise was available for sale too, there seemed to be something for every truck that was racing last night. I always give my kiddo a choice between treats to eat or treats to play with. He always chooses food but was smart in choosing a Zombie souvenir cup with sno cone "brain stuff".  Parking around downtown Sacramento can also be kind of intimidating, both search and price wise but we were able to find $10 parking just a couple of blocks from the Center. You can actually reserve parking ahead of time here. Save that link not just for the event but for any time you visit downtown Sacramento! 
The show is about 2.5 hours long with one intermission. The trucks and music are super loud so be sure take ear protection gear for the little ones (they are available for purchase at the venue as well). The trucks heat up quite a bit as they are being worked to the max, so if you are sensitive to smoke or dust I suggest you get seats a little higher up on the seating chart. Last night was opening night but there are still two more shows to enjoy this weekend- you don't want to miss it!
Saturday, January 20, 2018
Pit Party open from 4:30 PM–6:00 PM
**Saturday event ticket & Pit Pass required for entry
Sunday, January 21, 2018
Pit Party open from 10:30 AM–12:00 PM
**Sunday event ticket & Pit Pass required for entry
WHERE:    Golden 1 Center – 500 David J. Stern Walk, Sacramento, CA 95814
TICKETS:    Tickets are affordably priced for the whole family with seats starting at just $20 each
*Pit Passes available to purchase for $10 each